I've lived in the Algarve all my life and I'd never seen any Wild Boars, although I've eaten them frequently, as it's often served in good restaurants in the mountains. I've seen them in petting zoos and the like too. Last Friday while guiding a run along the coast I didn't see one... I saw a whole family just a few meters ahead on a path. It was a whole family of Wild Boar, two largish ones (like the size of black pigs, but with a higher shoulder). And two younger ones. I hate to say this, but I just thought how sweet these animals were. They were slow, scared and confused. Then came a dog, then came a plump man in a fit with his i-phone saying 'Estou a ligar à GNR! Estou a ligar à GNR! Morderam-me o cão.' (I'm ringing the police! I'm ringing the police! They bit my dog.) But I doubt it, I reckon he wanted those pigs on a plate and was phoning his mate with a gun. Why else would he be badgering the animals? I felt so sad. Because I was guiding client I didn't exactly stop the man chasing the poor pigs.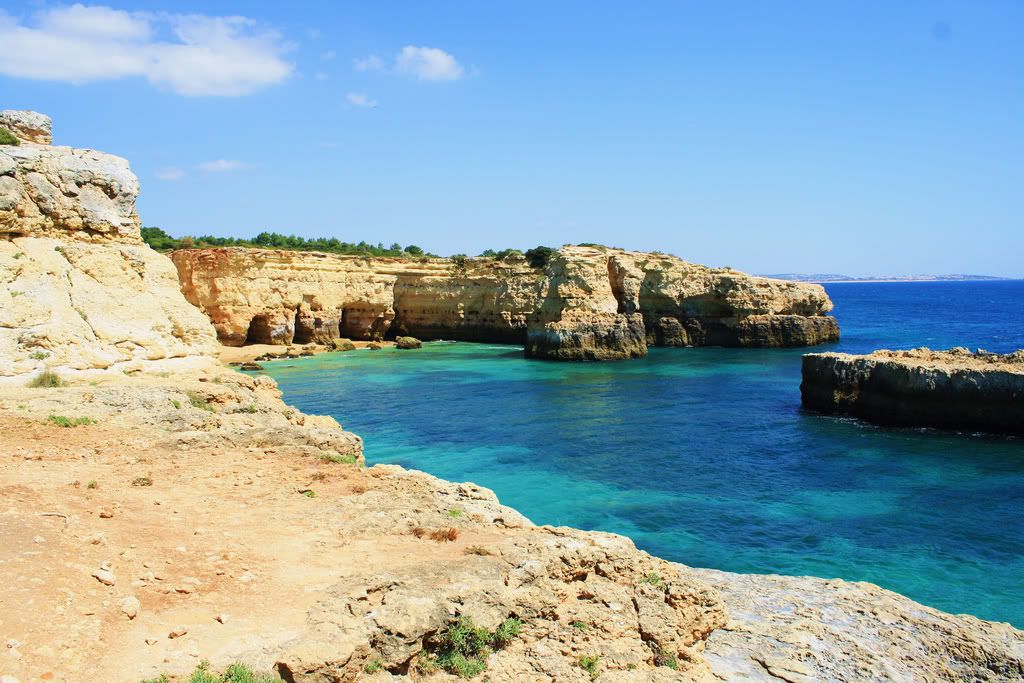 Somewhere near the beach above (hopefully still) live a little family of wild boar
Because it was a family of Wild Boar and they didn't threaten me and were obviously scared and surviving in the wild, I felt strongly I would never eat Wild Boar again, a sentiment I've never felt about farmed animals, or rabbits or something common that I'd happily kill, prepare and eat. It was something about seeing this little family surviving in such a small area of wilderness that made me feel this way. I think I kind of emphasize with them trying to survive and (hopefully) build a family here and feeing equally vulnerable. The whole scene: The sunshine, 23ºC in November, in a little valley just 50m from a little beach to the right and the wild boars. If you've ever read the
Aeneid
it will remind you of a scene where the Trojans arrive in Carthage. In fact, often do I get an eerie feeling that in times past the Algarve was just such an ancient wonderland of abundance; nearly every tree bears something edible and the climate is so amenable. Every rock you turn has some marvel of geology, geography or biology associated. Today walking along part of this coastal trail near my house we even saw many large fish from the cliff tops. It reminded of a time I hand fished (tickled) a one. This part of coastline is magical and thanks to the recession we will have it for a little while longer, with it's Kestrels, lesser Kestrels, foxes, genets and... Wild Boar.